Introduction
The MONITOR™ service is a free Web Service to provide data visualization of your IoT products. You can watch your latest Sensor values and camera image with your mobile.
There are a lot of alternative services for such purpose, but the MONITOR™ has the following unique characteristics:
Still photo monitor:
MONITOR™ shows the latest still photo in which posted at an interval from an image sensor or camera devices on your IoT device. This may seem just degradation from common streaming movie monitor, but this is intentional because this has a strong advantage to decrease network usage. You can realize an inexpensive 3G remote camera all over the world.
Out of the box monitor: Good looking, mobile adapted time-series chart is out of the box for your sensor data. So just after start sending sensor data to MONITOR™, you can watch the current trend of your sensor data easily on your mobile.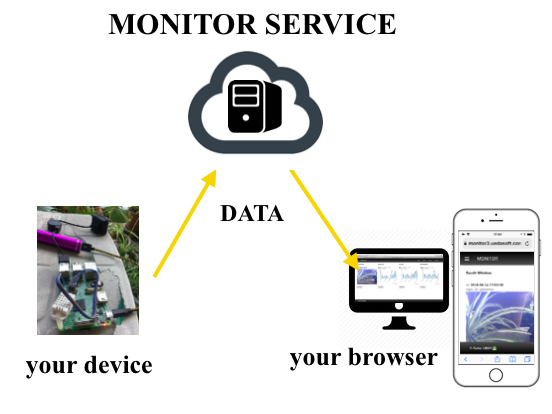 MONITOR Display
This section can be informative for the following sections. On the web browser, the MONITOR™ display consists of the following parts:
Mobile Collapse Button
Menu Bar
Element Display

View Elements
Value Elements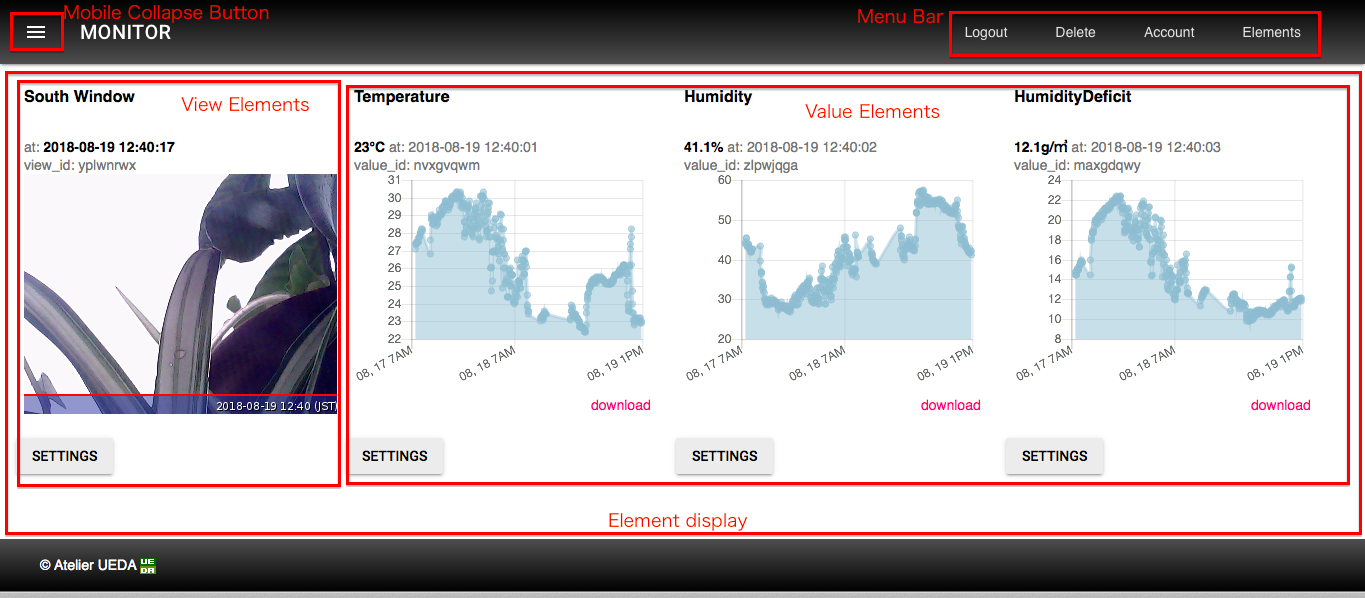 Mobile Collapse Button
The Collapse Button for mobile display, which has the same menu items with the Menu Bar.
Menu Bar
Menu Bar which has displayed on only wide display like PC.
Element Display
Display area for view element for photo and value element for data. Each element has a status either Active or Inactive. Even in inactive status, the posted data from your IoT device is accepted by the MONITOR™, but the display is different as follows:
Active element is shown on the Display
Inactive Element is hidden The Active and Inactive of the element can be selected by the Elements menu opened from Menu Bar or Mobile Collapse Button as follows:
View Elements
Display Elements of Picture. At Default, you have one View Elements and this is activated.
Value Elements
Display Elements of Data. At Default, you have three Value Elements and all of these are inactivated.